Welcome To Mlungisi's Car Wash In Cape Town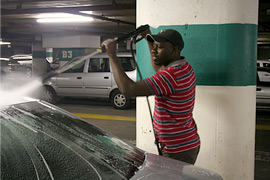 Operating Hours
Monday to Friday: 08:00 - 17:00
Saturday: 08:00 - 13:00
Closed on Public Holidays
Services Offered
Collect & Deliver Your Vehicle
Wash & Vacuum

R115

Wash & Polish

R320

Engine Clean

R150

Interior (Leather or Fabric)

R550

Full Valet

R780

High Definition Wax

R450

Buffing

SQ


Book Now »
Mlungisis' Car Wash in Atterbury House is the fruition of a young entrepeneur's dream: To build his own business and provide a high quality personalised service to his customers. Mlungisi's is conventiently located in the CBD, and will collect and deliver your vehicle for you if you require.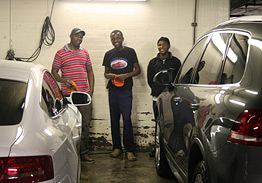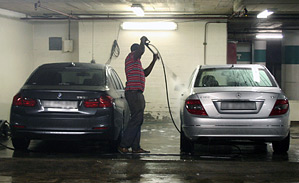 History
The manager who'll greet you with a smile and commitment to great service is non other than the owner and founder, Mlungis Menze.
Prior to starting Mlungisi's, he earned his stripes with 5 years at Ryan's Car Wash, working himself up through the ranks to foreman. In 2011 he took the bold decision to start his own business, working out of the Renault building in Bree Street. In that time, he earned contracts for the Renault Dealership, Top Gear & Metro Polytech, based on the quality of his work.
Soon it was time to expand, and he moved to the current premises in Atterbury House in 2012, adding a shine to the vehicles of:
Veritas
Carrifreight
SA Commercial
Porter's Cape Town
Bentley Cars
Absolute Cars
... and numerous individuals. He now employs 3 permanent staff members and the business is entirely self owned.
If you're looking for exceptionally high quality cleaning service with a personal touch, make an appointment now.